" Not having a clear vision is like navigating through life
with a GPS that has no address in it! "
- AnYes van Rhijn -

Write It, See It, Do It
Turning your vision into action

A five-week online immersive programme
to help you unearth your vision
and turn it into reality.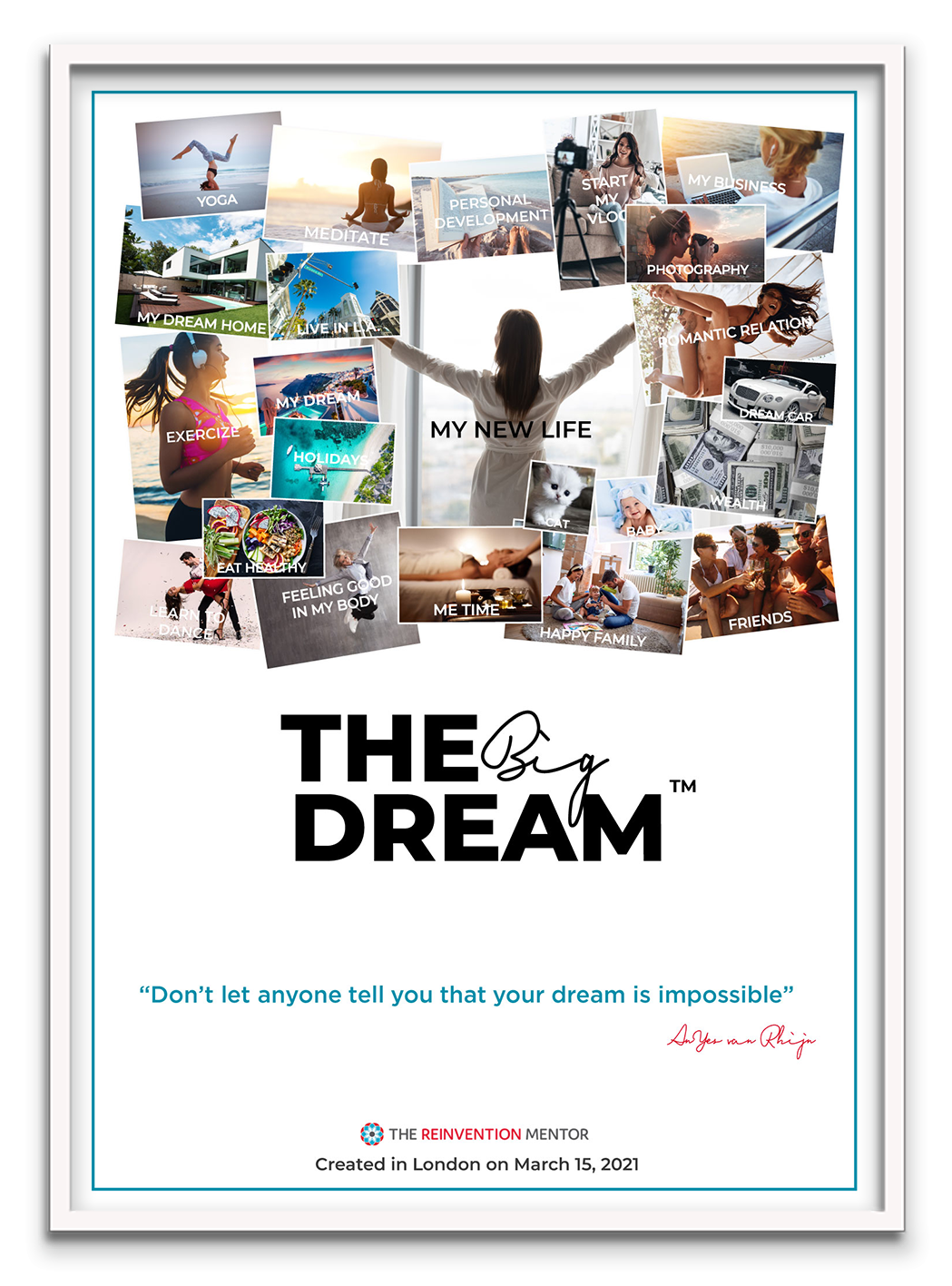 Is This You?
You're feeling stagnant and are looking for something to boost your motivation

You feel you need to re-evaluate your life and need to step back and reflect upon what to do next

Your life is seemingly good but somehow you sense that something is missing but can't pinpoint what

You have a rough idea of what to do next with your life but it's all in your head and you feel overwhelmed, havng no idea where to start

You would like to understand what is preventing you from turning your vision into reality

If you recognised yourself in one or more of these statements, what you need is

A clear and strong vision of what you want your life to look like

Know how to stay connected to that vision

Know what steps to take to make it happen
About This Course
Write It, See It, Do It is a one of a kind 5-week proprietary online intensive programme that will help you unearth your vision and turn it into action. Unlike most vision workshops that are delivered over a few hours and concentrate only on creating a vision board, this course embarks you on an immersive and transformational journey where you will:
Take stock of what is working and what isn't in your life

Reflect upon foundational elements such as your Why, who you want to be, what success and fulfilment mean to you, what you need to let go of and so much more

Write your vision in full details

Create a gorgeous vision board that will motivate you for the years to come

Learn the tools and techniques to stay connected to that vision

Shift your mindset from scarcity to abundance, shift your mindset from scarcity to abundance

Learn how to handle fear as a fuel instead of letting it paralyse you

Create a three-year action plan

Learn how to overcome overwhelm by using time & priority management tools

Implement a routine to help you stay intentional and focused every single day
Module 2




Where Are You Now?
Where are you now?
What is missing?
What you don't want anymore
What is your why?
What do you want to DO?
What do you need to do more of?
What is your legacy?
What do you want to HAVE?
Who do you want to BE?
What do you need to let go?
What Can Stand In The Way?
Staying Connecte

d
to Your Vision
Connecting to your future self
The art of receiving
Walking tall for success
The power of affirmations
Raising your vibration
Creating a daily routine
Doing a brain dump
90-day goals
Three-year plan
Weekly plan
Module 9


Staying Intentional and Focused
Eisenhower's Matrix
Daily to do
Pareto's Law
Daily review
Stepping to the next level
Daily tasks and assignments to keep you immersed in your vision
Resources (templates, worksheets, recommended videos, etc.)
Access to The Big Dream website to create your vision board online
A 90-minute Q&A call, delivered via Zoom, on the 1st, 2nd, 3rd and 4th Thursday of each month
A private FB group where you will:
get accountability and support,
build community with the other participants
Lifetime access to all the content even when the investment will increase
A 61cm x 91 cm PDF of your Vision Board (value 40 US$)

The digital version of
The Empowerment Planner
to keep you intentional and focused in only a few minutes a day (value 35 US$)
Access to
The Reinvention Hub
, my private FB group for more accountability and support at the end of the course
This immersive 5-week programme is for you if:
You are

conscious

that if you continue doing more of the same you will get more of the same results
You've had enough of the frustrations and overwhelm
You are serious about doing something to change that
You are ready to take some time to reflect on what you really want
You are ready to challenge yourself and take action
Who this is
not for
This programme won't be worth your investment in time and money if:
All you're looking for is to have a bit of fun creating a vision board
You think that a vision board looks nice and it is trendy to have one
If that is you, you will be better off signing up with one of the many vision workshops that will help you do so for just a few dollars in only a few hours. You will indeed have a nice looking vision board and maybe a few tips to act upon it but chances are that your vision will remain … a dream!
What they say
" I didn't expect to manifest items on my vision board during the course"
" This course is so much more than just creating a gorgeous vision board"
"It has totally transformed how I view life and what I think is possible"
This course relighted the fire in my belly and I'm excited about the future!
I'm a single mother to two kids under 5, running two businesses. When I started AnYes' course, my vision for my life had become hazy and I no longer felt that my dreams were achievable. I was struggling with self-doubt and procrastination and felt out of balance. I had no idea when I signed up for it, that this course would be so transformational! In as little as 5 weeks, I've started dreaming again and I know that my goals and dreams are achievable. But not only that, I've started manifesting also. I've increased my hourly rate which was accepted by all my clients without even questioning it. I've created an additional stream of passive income, I've attracted a lot of collaboration opportunities and I've also signed up a new client. The way AnYes gets the participants to reflect and dig deep is absolutely amazing and life-changing. I had several aha moments and for the first time in a long while, I was able to step back and be truly immersed in my vision. It has relighted the fire in my belly. I'm excited about the future and I now have a clear and purposeful vision and an action plan to help me achieve it.
I have already manifested some important elements of my vision!
I had an outline for the next 5 years of my business but I was lacking the clear vision that would help me create the plan to achieve it. I now not only have a gorgeous vision board that I have created using the unique software that comes with the course but I also feel totally immersed in and connected to that vision while having clear goals and a master-list of actions that will help me turn it into reality.AnYes guides us through 5 weeks of total immersion in our vision and helps us move away from prescriptive processes and instead embrace the essence of our vision. As mine was unfolding I started feeling a little overwhelmed by the magnitude of it but AnYes provided me with personal support and helped me find the confidence and implement the practical tools to embrace the results that I had started reaping. Because, yes, only a few weeks into the course, I had already manifested some important elements of my vision and I continue to do so.I definitely recommend this programme if you are struggling to have a clear vision.
I became aware of my responsibility for my life, wellbeing and achievements.
For event organizers, 2020 was a disastrous year. I had several events canceled in March and April and I have been really stuck in self-pity followed by the fear that I wouldn't know how to organize events online. It was a serious financial setback and my self-esteem went really low. I spent months in that state, probably very close to a proper depression, and at some point, it became obvious that I needed to get out of that, or soon I will need professional help… The timing of this course couldn't be more perfect! Now I feel totally re-energized. I have a clear vision not only about WHAT I want to do but also about my priorities and schedules for next year and even further in the future. The exercises AnYes gave us are very well-thought and they led me to clarity in regard to my passions, visions, and goals. At a deeper level, she made me aware of my responsibility for my life, wellbeing, and achievements. She has also provided us with amazing tools to keep us on track with our plans.I definitely recommend the course to anyone who is not sure how to find clarity about her goals or who needs an action plan to achieve them.
Karolina Koza
AnYes van Rhijn
Known as The Reinvention Mentor®, AnYes is an award-winning Life and Business Transformation Mentor.
She helps professional women, who feel trapped in their life, become emotionally and financially independent by redesigning life and business on their own terms, so that they have the freedom of choice in anything they do.

A former Senior Manager for 25 years in France who reconverted into Executive Coaching at 48, she knows a thing or two about resilience and bouncing back when life throws lemons at her.

At 57, she left a toxic relationship despite knowing that she would loose everything in choosing to do so.
At 58 she arrived in London with just two suitcases, no income, no savings to rebuild her life.

She now runs two successful businesses and has made it her life's mission to help women become financially and emotionally free so that, in doing so, they can become role models for more women to do the same.